So I guess this is a good… thing?
Jeff Horn became the WBO Welterweight Champion in front of his home crowd. The Aussie "outpunched" Manny Pacquiao and that… along with the decision to fight in Australia… put a strain on Pacquiao's title defense.
So I guess this is Pacquiao's fault?
Pacman hasn't scored a knockout for nearly a decade and as much as I want him to fight for our country, losing to the likes Tim Bradley and Horn is just insane. In some ways, boxing needs to have the old guys lose to build up the sport with their new wunderkinds. Isn't this the reason why Bradley initially prevailed over Pacman?
Dammit, who thought it was a good idea for Manny Pacquiao to fight in Australia anyway? JEFF HORN IS FROM AUSTRALIA AND HIS WIN IS A FEEL GOOD MOMENT WAITING TO HAPPEN! I know the arena drew a capacity crowd but sans the Las Vegas atmosphere (on free TV with that), it was a bad business decision by his handlers.
And this is going to be the story of his career… incompetent people around him. Instead of partying and trying to do sing-a-longs and internal weight training competitions, Pacquiao's guys could have checked the documents and fight conditions. Shit happened during the Floyd Mayweather fight and ditto for his countless battles with Juan Manuel Marquez. Floyd will try his earnest to protect his fighting record (isn't it weird that they agreed to everything the other side wanted) while Marquez is a good enough boxer to claim a victory over his tormentor especially if you give him opportunity after opportunity after opportunity.
How can his handlers repeat the same mistakes?
I am not taking anything away from The Hornet. In some ways, he played his cards well. For heart alone, Horn takes the cake. The mere fact that the match went to Headlock City via Elbow Boulevard means he is willing the beat Pacquiao at all costs. Inasmuch as it's his character to smile despite everything that had happened, it's easy to see that Pacquiao has lost his "make or break" mentality due to his legend status. He's like Rocky in that film where he lived in a mansion. The only difference is that Manny is also an elected public servant. But for Jeff Horn though, I think he'd rather gain the respect of everyone in defeat than win this match in a controversial manner. And it's not as if he's also one of the three international judges that scored this bout. Perhaps (*cough* perhaps) Pacquiao lost the match but it's not unanimous.
But make no mistake Horn's win catapulted him with the all-time greats. By beating the three-time WBO Welterweight Champion, he joined the ranks of Mayweather, Bradley, Miguel Cotto, and Antonio Margarito.
From obscurity to victory… just like when Manny Pacquiao defeated Lehlo Ledwaba for the IBF Super Bantamweight Title sixteen years ago.
Pacquiao scored a sixth round TKO though.
And there was no controversy with the match.
It became worse when we check out the fight stats. Pacquiao landed 32 percent of his punches to only Horn's 15. 31 percent of Pacquiao's jabs connected compared to Horn's 10. And 32 percent of Pacquiao's power punches stung Horn but only 17 percent went to Pacman.
Only challengers lose the match in this kind of fashion.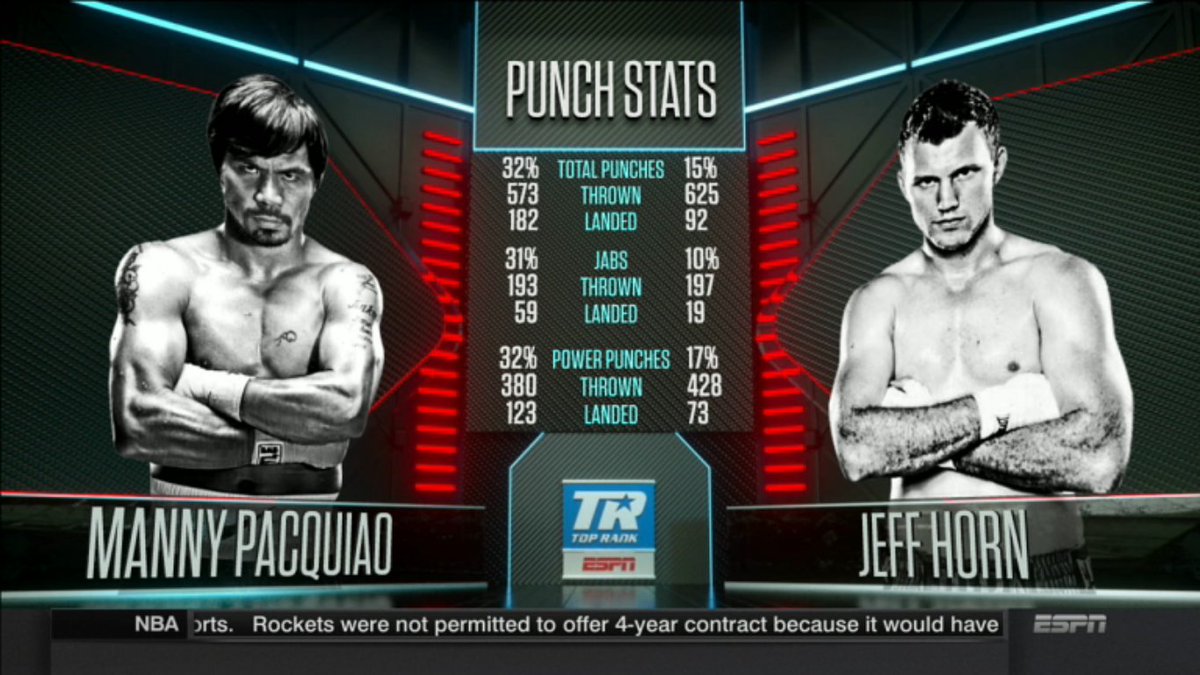 But then again, what kind of champion would agree to hold a match in his challenger's home turf? Maybe they want Australia as the next best boxing destination outside the United States but why is it at Pacquiao's expense? Whatever happened to Macau? I know seven of Pacquiao's last nine fights were held in his challenger's turf but this is the only time Pacman fought a non-American challenger in his home crowd. Again I pass the blame on his team's decision making.
What is the difference between Brisbane and a Wembley Stadium match with Ricky Hatton if that's the case???
Pacman… just retire already. This is the biggest middle finger Pacquiao could give to the sport of boxing. He has nothing left to gain from fighting. After Manny, what will be Horn's next globally-televised gig? A match against the comebacking Bobby Pacquiao!?! Obviously everyone is asking for a rematch because of this decision. The world is blaring sentiments that Pacman got robbed. But hopefully this time, Pacman knows better as this is virtually the exact same thing that happened with Bradley. While he will retire without a victory, Pacquiao would hurt the sport even more by leaving. Another reason why the Bradley sequel happened is because of the latter's inability to carry the sport. And what if he defeats Horn in their rematch? Will this transform into a trilogy or will another challenger come out from obscurity to take Pacman's title…
… to continue this shitty cycle?
He's already 38. Just give Pacquiao a microphone and do senate inquiries. Hell, give him a mic to sing! Or better yet, let him have a ball and shoot awkward-looking three-point shots.
With this though, perhaps we can take Conor McGregor seriously when he faces off against Mayweather.